Grilled Fish Recipes
Warm Salmon Salad
As an Amazon Associate I earn from qualifying purchases.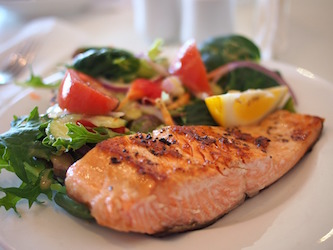 This is one of my favorite grilled fish recipes. I think it's because it's so adaptable. I love the mixture of warm salmon with cold salad. You could use trout or canned fish here. Tuna would be good - canned salmon would give you the Omega 3s as would fresh tuna, but canned tuna is not classed as an oily fish - the oils are destroyed in the canning process.
Swordfish, monkfish, any type of firm fleshed fish would be great.
The balsamic vinegar dressing gives the finished dish a certain piquancy that is hard to describe - give it a try - if you don't like balsamic vinegar, then use an ordinary french dressing. I like to make this dressing up and keep it bottled in the refrigerator for pouring over any salad I have, it's a simple shake together of oil and balsamic vinegar, I will add a shake of garlic salt to it sometimes, yummy! 
The bags of mixed salad leaves that you get in the supermarkets now make this a meal that is simple to put together. 
---
Warm Salmon Salad
4 steaks or fillets of salmon
lemon juice
black pepper
bag of mixed salad leaves
handful of fresh basil leaves
2 ripe avocado pears - peeled, stoned and diced
12 cherry tomatoes - halved
2 carrots - peeled and grated
2 tbspns olive oil
2 tspns balsamic vinegar
Lemon Wedges
Heat your grill and brush the salmon fillets with oil, lemon juice and season with a few twists of black pepper.
Cook about 6 minutes, turning half way through - brush with oil as you turn.
While your salmon is cooking, assemble the salad.
In a large bowl, tip in the salad leaves, avocado, tomatoes and carrots and mix them all together.
Combine the olive oil and balsamic vinegar and pour over the salad.
Mix thoroughly so that the salad is coated with the dressing.
Put the salad onto individual plates and top with the cooked salmon.
Serve this with some fresh crusty bread and butter or some boiled and buttered new potatoes.
More Grilled Fish Recipes
Some of the links on this site include affiliate links, providing Find-a-Seafood-Recipe a small percentage of the sale at no additional cost to you. 

Subscribe to Seafood Recipe News - complete the form below.
Your email address is secure and will *only* be used to send Seafood Recipe News. When you confirm your subscription, you will be taken to a page where you can access your free eCourse. Complete the form and it will arrive over the following five days.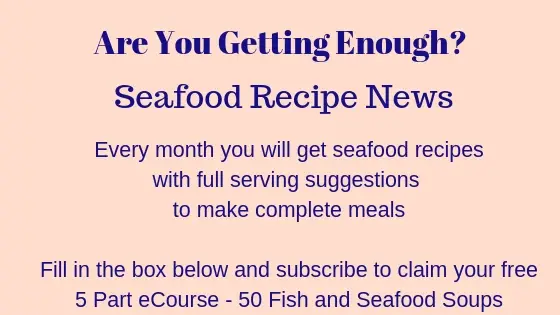 Warm Salmon Salad
By Liz Alderson, Mar 30, 2016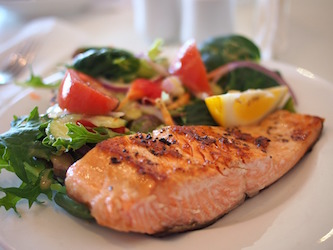 This Warm Salmon Salad recipe is one of my favorite grilled fish recipes because it's so adaptable.
Prep Time: 2 minutes

Cook time: 6 minutes

Yield: 2

Main Ingredient: steaks or fillets of salmon, salad leaves