Easy Salmon Recipes
As an Amazon Associate I earn from qualifying purchases.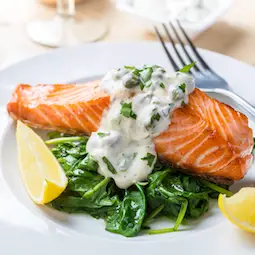 These easy salmon recipes are quick to prepare and very tasty.
The first is pan fried until cooked through and served with a cream tartare sauce - ingredients for 2, but just increase proportionally if you need to.
You could have a few boiled potatoes and either a salad or some buttered boiled vegetables which would make this an ideal quick main meal. Try a bed of spinach or some broccoli, something dark green which contrasts so beautifully with the salmon - we eat with our eyes first. 
I'm not sure of the origin of this next dish, but my mum cooked it for me - she'd had it at a friend's house who had written out the recipe for her.
It's quite unusual - salmon with beetroot - but it's absolutely delicious, so suspend your disbelief and give it a try.  It's another that is easy enough to scale up for more people. 
---
Salmon with Tartare Cream
2 salmon fillets - skinned
oil to brush the pan
pepper
2 tablespoons creme fraiche
1 teaspoon capers
handful chopped parsley

Heat the pan and then lightly oil it.
Season the salmon with some ground black pepper.
Fry for about 4 minutes each side until the fish is cooked through and firm to the touch.
In the meantime, take a small pan and heat the creme fraiche.
Add the chopped capers and parsley and gently heat - do not allow the mixture to boil.
Serve the salmon with the sauce spooned over.
Salmon with Beetroot
4 rashers bacon - chopped
4 spring onions - sliced
8 oz (225g) frozen peas
8 oz (225g) pack cooked beetroot
oil for the frying pan
4 salmon fillets - skinned

Cook the bacon until crispy - about 5 minutes.
Add the onion and peas and cook a further 2 to 3 minutes.
Drain the beetroot juice and set aside.
Dice the beetroot and add to the pea mixture.
Heat for a further minute.
Oil the pan and cook the salmon for about 4 minutes each side until the fish is cooked through and firm to the touch.
Serve with the pea mixture then drizzle over the beetroot juice.
Boiled new potatoes would go well with this.
These 2 easy salmon recipes can both be ready in around 10 minutes and so are ideal for quick main meals.
More easy salmon recipes
Some of the links on this site include affiliate links, providing Find-a-Seafood-Recipe a small percentage of the sale at no additional cost to you. 

Subscribe to Seafood Recipe News - complete the form below.
Your email address is secure and will *only* be used to send Seafood Recipe News. When you confirm your subscription, you will be taken to a page where you can access your free eCourse. Complete the form and it will arrive over the following five days.