Baked Whole Fish Recipe
As an Amazon Associate I earn from qualifying purchases.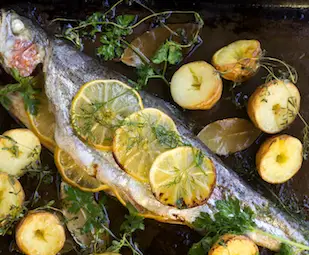 This baked whole fish recipe uses trout, but it would suit any medium sized whole fish, bream, carp, any catch of the day. 
It's really simple to prepare and cook and uses minimal ingredients.
If they're bigger than 1lb (500g) each, then give them a little longer in the oven. Do see the important tip about oven temperature in the pink box below.
The fish are ready when they're firm to the touch.
Serve with potatoes and salad or vegetables. 
This a really simple way of cooking baked fish - so easy and straightforward. You could cook it for a family tea or a dinner party and nobody would complain.
You could add a small glass of white wine as well if you like - just tip it in along with the lemon juice.
---
Baked Trout
4 trout - 12-14 oz (350-400g) gutted and heads off if you prefer
black pepper
butter
zest of one lemon in strips

lemon juice
chopped parsley

Heat your oven to Gas Mark 4,350 F or 180C
Wash and dry the fish.
Oil an ovenproof dish and lay the fish in.
Sprinkle the parsley into the cavity of the fish and season with pepper and lemon juice, then dot with butter.
Bake in the oven for about 20-25 minutes until the fish is cooked through.
It will be firm to the touch.
Lift the fish carefully out of the dish with two spatulas, spoon the juices over and serve with some boiled new potatoes and buttered vegetables or a crispy salad.
Important Tip

Cook's Notes

For any baked whole fish recipe, it's crucial to have the oven pre-heated and up to temperature. 

Fish doesn't take long to cook, but it does need to go in at the right temperature. 

Have you noticed that the oven light will often go on for a minute or two after you've put your food in the oven? It then takes another minute or so for the light to go off and reach temperature again. 

Preheat your oven about 20F or 10c higher than the stated temperature, and when you put the fish in, lower it down to 350F or 180c. Opening the oven door will let a bit of heat out and then it will start cooking at around the correct temperature.  You'll then be able to start timing straight away.
You may also like these recipes
Some of the links on this site include affiliate links, providing Find-a-Seafood-Recipe a small percentage of the sale at no additional cost to you. 

Subscribe to Seafood Recipe News - complete the form below.
Your email address is secure and will *only* be used to send Seafood Recipe News. When you confirm your subscription, you will be taken to a page where you can access your free eCourse. Complete the form and it will arrive over the following five days.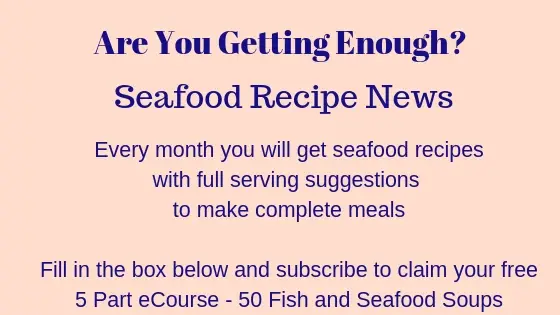 Baked Whole Fish Recipe
By Liz Alderson, Mar 30, 2016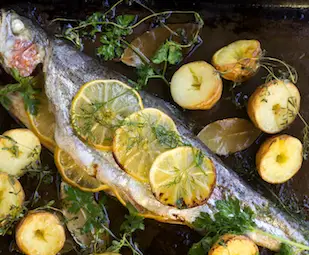 A very easy way of cooking whole trout or any other catch of the day. Simplicity is the best way to present a very tasty, fresh fish.
Prep Time: 5 minutes

Cook time: 20 minutes

Yield: 4

Main Ingredient: whole trout or other small fish, lemon, parsley, pepper