Baked Seafood
Seafood Recipe News Issue #7
As an Amazon Associate I earn from qualifying purchases.

Baked seafood is very popular. It's quite straightforward to cook as you just put your ingredients together and let the oven do the work!
A lot of people are concerned about how to tell the fish is 'done', cooked enough. A simple measure is to push at the flesh with your finger (do be careful, the fish will be very hot!) If it is firm to the touch, then it is done, and most fish will start to flake at that stage. You'll see with experience how it works.
Baked scallops, baked shrimp, easy one baked fish dishes and impressive dinner party dishes all feature in this issue of Seafood Recipe News.
There's a gorgeous Greek style baked fish in tomato sauce. That sauce is very similar to my regular base tomato sauce and I bet it will be one you can use again and again.
---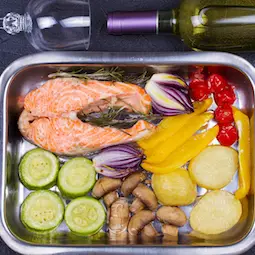 A really simple, no fuss easy one dish baked salmon. This is perfect for one person -  a real special treat - if you want to cook for more, then use a larger roasting tin or fit more smaller tins alongside each other. The good thing is, you'll be keeping washing up to a minimum :-) Always good!
Use any combination of vegetables you like - part cook the potatoes before adding them. 
---
---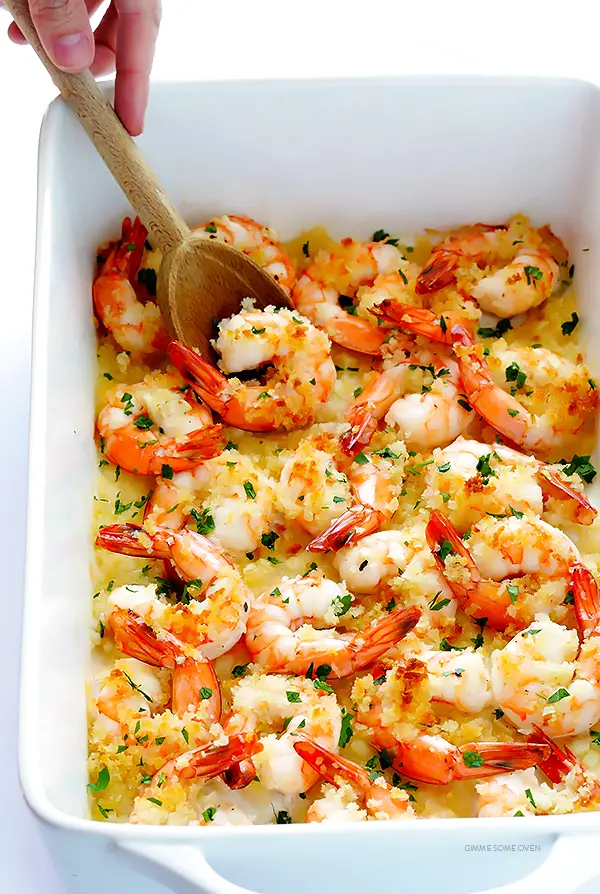 Garlicky Baked Shrimp - look at that photograph, can't you just smell those shrimp and feel the butter running down your fingers as you pick them up.
A really simple meal which will be out of the oven in 20 minutes. Serve with some crusty bread for mopping  up the juices and a large glass of chilled white wine for a luxury lunch or decadent dinner party.
Watch the very quick video below to see how easy it is to make this dish.
---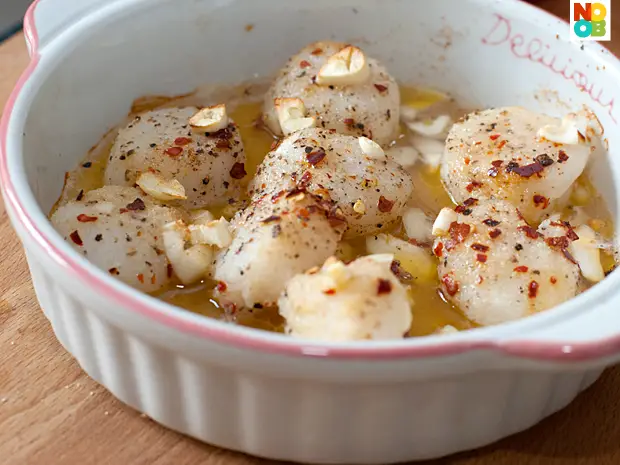 These delicious Baked Scallops cook up really quickly - flavored with garlic, chilli flakes, butter and garlic, they're a really impressive way to serve scallops.
You can use either the smaller bay scallops or large sea scallops - just adjust the cooking time for the thickness. They will be cooked when you press them and they are firm to the touch.
Serve this with either some pasta and freshly grated parmesan cheese as a main or some crusty bread to mop up the buttery juices. 
---
---
Baked Seafood for Sunday Roast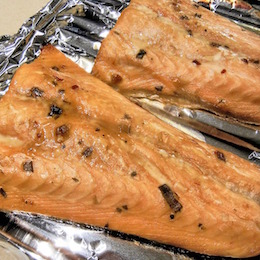 When I said 'dinner party' baked fish recipe, this was the one I was thinking of. You could just as easily have this as a meat free roast.
The Honey Mustard Roast Salmon recipe featured here is so gorgeous that you'll want to use the tasty glaze on other fish.
This is great served with some mixed roast vegetables or try a salad and some buttered new potatoes for a lighter summery meal.
---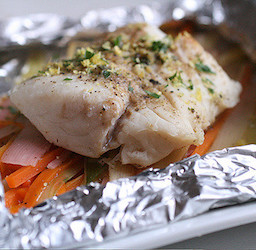 Such an easy way of cooking fish in individual portions - baked fish in foil - click on the photo to get the full recipe.
You can have all your veggies and portions of fish ready, prepared in the fridge before cooking. 
This method is suitable for any fish - I love halibut done in this way but you can choose any type you prefer. Whatever's good on the day, I always say. Rather than go to the fishmonger with a definite plan, be flexible - you'll get a bargain and perhaps try something you wouldn't have.
If you cook your veggies in the foil parcel, then you will only have to do a potato side to go with it. You could add anything you like - maybe some thinly sliced zucchini or bell peppers.  A plain buttered boiled new potato would be an excellent choice. 
---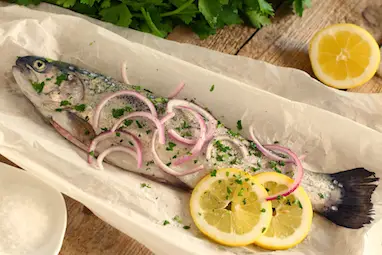 No baked seafood resource would be complete without the famous 'en papillotte'. Most popular is trout - one of the finest river fish, it's small enough to be cooked whole in paper.  
You can of course cook any small whole fish this way and you can cook fish fillets or steaks.
The parcel keeps all the moisture in, allowing the flavours of the seasoning to mingle with the delicate taste of the fish.
---
---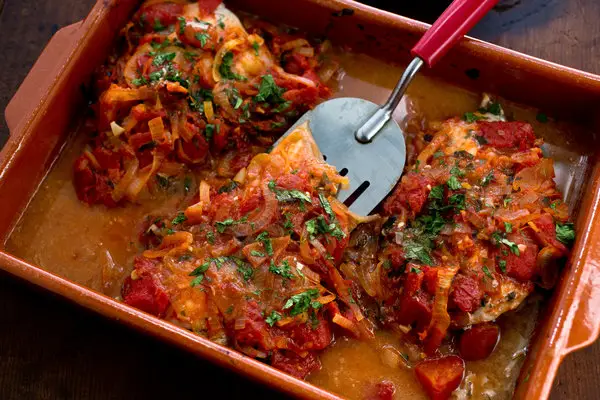 This is one gorgeous baked seafood in tomato sauce - very Greek in presentation.
You cook the tomato sauce for a while prior to adding it to the fish and baking in the oven. I would bet a large amount of money that you'll use this tomato base for a lot of your cooking - it's very similar to one I use regularly - you know the sort, you've always got the ingredients to hand and never have to refer to a recipe.
Use any fish fillets you like for this - I would go white fish rather than oily fish, but other than that, use expensive halibut or turbot down to whiting or pollack. 
Serving suggestions are plain boiled vegetables and potatoes - you've loads of sauce on the fish so won't need anything else. Use some zucchini, peas, whole green beans, calabrese/broccoli or cauliflower - a combination of those. Some crusty bread to mop up that sauce wouldn't go amiss either.
You may also like these baked seafood recipes.
---
Some of the links on this site include affiliate links, providing Find-a-Seafood-Recipe a small percentage of the sale at no additional cost to you. 

Subscribe to Seafood Recipe News - complete the form below.
Your email address is secure and will *only* be used to send Seafood Recipe News. When you confirm your subscription, you will be taken to a page where you can access your free eCourse. Complete the form and it will arrive over the following five days.