Tuna Casserole Recipes
As an Amazon Associate I earn from qualifying purchases.

Tuna casserole recipes are a great standby. The ingredients are normally in stock at home - pasta, canned tuna, canned soup, cheese, some chopped onion and maybe other veggies. 
Tuna casserole can be put together in minutes and popped into the oven whilst you get on with something else.
I like to serve crusty bread with mine. I put it in the oven for the last few minutes of cooking to heat through and love it with butter melting into it. Yummy - I also like broccoli with it.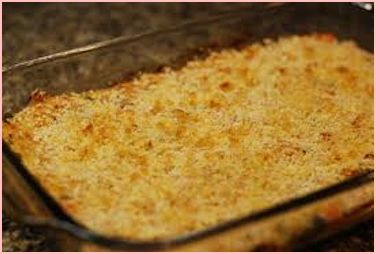 There's a couple of really simple tuna casserole recipes here - one is ideal for when you're away as the preparation is very simple. You could prepare it in the morning and when you come back, pop it in the oven while you get the kids showered and cleaned up. 
The second one is only slightly more complicated in that the topping is a mixture of grated cheese and breadcrumbs - I love the crunchiness of that topping. 
Cook's Notes

Can I freeze leftover tuna casserole?

Absolutely  you can. 

Cool the casserole in the cooking dish, then cover it with aluminium foil and place in the freezer for a few hours. Once it's frozen solid, remove it from the dish and wrap it in foil, label and put in a  bag. It will keep for three months at least.

You can reheat it in the oven for 25 minutes. Cover with foil to prevent it drying out too much. 

Defrost it overnight - I wouldn't recommend defrosting in the microwave as you'll got hotspots around the edge and it will still be frozen in the middle.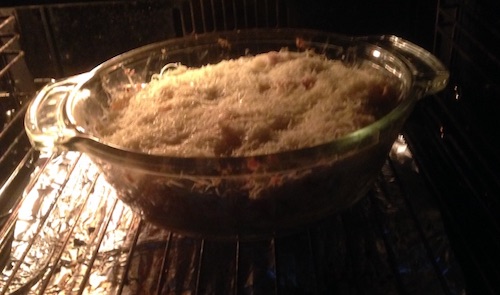 In the UK, we sometimes call Tuna Casserole 'Tuna Pasta Bake' - this is a short video I've made showing you how to make this really simple dish. 
It has chopped bell pepper in for a bit of 'bite'. I like this variation a lot. 
Cook's Notes

How long will tuna casserole last?

If you cool it after cooking then refrigerate immediately, it will keep for three days. I normally say the day of cooking plus two more days. If I haven't used it, I will freeze what's left. 
Tuna Casserole Recipes - lasagne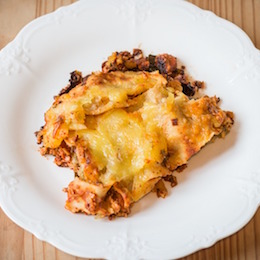 This super easy tuna recipe is a lasagne cooked in the slow cooker! It's so simple and takes three to four hours to cook. 
I've made a video of it - and in it, I show you how to make a lovely cheese sauce for the topping just using cream cheese and grated cheddar. It's so yummy and saves the trouble of making a sauce from scratch. 
Cook's Notes

What can I serve with tuna casserole recipes?

Well, crusty bread and butter is lovely, but if you want to add some side dishes then try these:

Green salad
Mixed salad
Grated carrot, shredded cabbage with mayo
Steamed broccoli
Boiled new potatoes
Herby potatoes
Garlic Bread
Fries 
Green beans
---
Some of the links on this site include affiliate links, providing Find-a-Seafood-Recipe a small percentage of the sale at no additional cost to you. 

Subscribe to Seafood Recipe News - complete the form below.
Your email address is secure and will *only* be used to send Seafood Recipe News. When you confirm your subscription, you will be taken to a page where you can access your free eCourse. Complete the form and it will arrive over the following five days.