Spiralizer
As an Amazon Associate I earn from qualifying purchases.

What is a spiralizer? Is it worth the money? 
Will this giant pencil sharpener actually get used or will it sit in its box at the back of a cupboard?
How do you make zucchini spaghetti?
I love kitchen gadgets, but I've resisted buying one of these, because I am now a grown up and realist ;-) 
However, a trusted friend said to me that she uses hers all the time. Consequently, I've done some research and have chosen to buy the Mueller Spiral-Ultra 4-Blade Spiralizer, 8 in 1 Spiral Slicer.
I considered others, and I'll tell you how I arrived at the decision to buy this one when there are dozens to choose from.
There is a massive choice of spiralizers. Hand held ones, table top models with a manual turning handle and electric ones.
They differ in price from less than $10 to nearly $100 and the price doesn't always reflect customer satisfaction!
You can buy electric machines, but I would not want a machine like this that had only one function.
Some of the hand held machines get great reviews - they're cheap and work well for zucchini, carrots and other soft veg.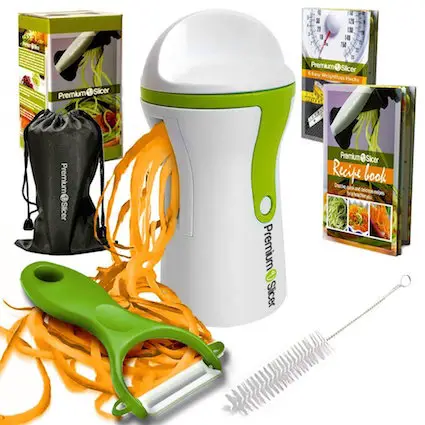 The advantages of having a vegetable spiralizer:
replace high carbs with low carb veggies
get more fibre - important for gut health
get the kids to eat more veggies 
salad vegetables are boring to eat, spirals make it fun
great presentation of food - the WOW factor
quick to cook - a portion of spirals can be steamed in a couple of minutes
spirals of apples and pears make eating fruit fun
gluten free, paleo and low carb dieting made simple
perfect for raw food followers 
There are a few main problems that people report:
rubber feet don't stick to the counter top properly - solution, dampen them before you start and press the unit down firmly
hard veg (butternut squash, sweet potatoes for example) can be difficult to spiralize, but that often depends on the size of machine that you buy. The larger ones cope better with hard veg - if you're going to do lots of zucchini and similar, then have a smaller, cheaper machine. If you would like to do harder veggies, then consider an electric or larger unit.
some models leave you with little ends that have to be chopped - pop them into a freezer bag to make a soup at a later date if you don't want chopped veggies mixed into your finished dish
difficult to manipulate the veggies sideways 
hard work with the hand held versions with harder veggies
My Choice of Spiralizer and why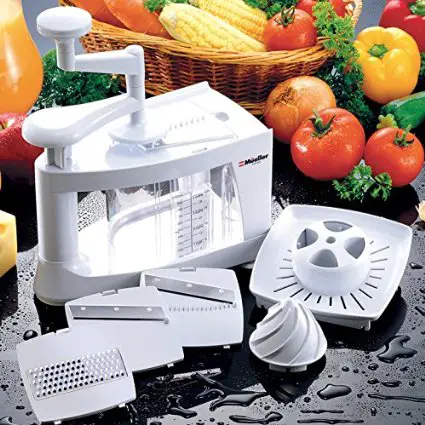 The flags below will take you through to Amazon where you can read more about this model. The UK version is called 'Cuisique' but it is an identical machine.
this machine is not just a spiralizer, but a mandolin, grater and juicer. I can get rid of several bits of equipment in my kitchen (I'm trying to rid myself of clutter)
all the attachments stow away in the catching drawer when not in use
gravity helps, so no need to use extra strength with sideways pressure
left or right handed use - I did break my right arm earlier this year and haven't got a lot of strength back in it yet
made in Austria - not China 
easy to clean - just needs a rinse under the tap or you can put it in the dishwasher
hand operated, no need to be near a power supply, so I can use it anywhere in the kitchen
BE AWARE - there are two ways to put this blade in, one to use as a slicer and one as a spiralizer - watch the video to see the explanation. Many of the one star reviews are as a result of trying to use the blades in the mandolin position when spiralizing veggies.
Tips:
make sure the ends of your veggies are flat, that way you get the most even noodles. Trim them evenly.
cut long veggies into portions - the longer the veg, the longer the noodles. I cut a cucumber into quarters, I wouldn't always want a whole cucumber at one meal
when comparing models on Amazon, don't just go for those with five stars - check how many reviews there are and the dates. Some models are only recently released and have attracted five star reviews from paid reviewers and there may only be a few, dating back a month or two
pay more attention to the reviews of models with four plus stars but hundreds of reviews dating back over a year
check out the one and two star reviews to see whether you think you may have those problems
to chop scallions (salad onions, spring onions) pack them inside a hollow pepper and do them at the same time
radishes would work the same way
Great Spiralizer Recipes
The kitchen gadget that turns vegetables and fruits into imaginative, healthy dishes with this definitive spiralizer cookbook. Whether you're low-carb, gluten-free, Paleo, or raw, you don't have to give up the foods you love. Inspiralized shows you how to transform vegetables and fruits into delicious meals that look and taste just like your favourite indulgent originals. Courgette turns into creamy clam linguine, turnip into pesto spaghetti, sweet potato becomes fried rice or a pizza base, and cauliflower makes great Tabouleh. There are recipes for breakfast, snacks, sandwiches, soups, salads, casseroles, rices, pastas, and even desserts. Everything is easy to follow, fresh and flavour packed and includes nutritional breakdowns. Many of the recipes can be customised to use whatever vegetables you have to hand and whatever your personal goal may be - losing weight, following a healthier lifestyle, or simply making easy meals at home. This book covers every vegetable you can possibly spiralize, and offers advice for spiralizing whether you're feeding just yourself, your family, or even a crowd. So bring on a hearty appetite and a sense of adventure-you're ready to make the most of this secret weapon for healthy cooking.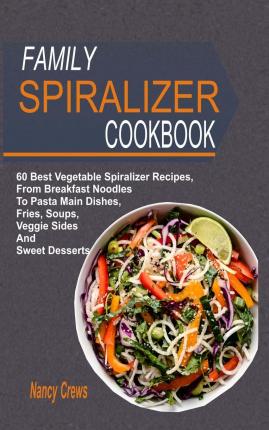 60 Best Vegetable Spiralizer Recipes, From Breakfast Noodles To Pasta Main Dishes, Fries, Soups, Veggie Sides And Sweet Desserts Here is a collection of recipes to make the most of your spiralizer. Your spiral vegetable slicer will no longer stay idle on the counter with these tasty and irresistible dishes! Spiralized vegetables are not just about healthy eating, they also provide a lot of fun for the whole family. Get your kids involved as you create colorful meals from breakfast to lunch, dinner, side dishes and dessert. The types of dishes you can make with spiralized vegetables is almost endless. The 60 recipes in this book will enable you make flavorful, low-calorie and all-natural recipes with the use of your spiralizer. Vegetable-full meals hit the spot whether you want to slim down or just want to maintain a healthy weight. They are not only delicious and nutritious, they also fill you up and help you resist sweets and junk food. The best recipes require minimal effort to make. Sometimes, all you have to do is toss your spiralized sweet potato or zoodles with olive oil, sprinkle with your favorite spices and stick in the oven. A few minutes later, a delicious meal is ready for your family.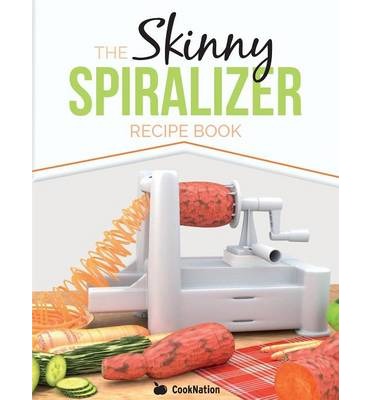 Get ready to open yourself up to a whole new world of possibilities....Our calorie counted low fat recipes will help you make the most of your spiralizer: serving up super-fast, simple meals, soups, sides, salads and more. With our recipes and your spiralizer, mealtime prep is fast and fun. Every skinny dish serves one and is calorie counted to fall below either 200, 300, 400 or 500 calories.Recipes include: Sweet Ground Beef & Zucchini Twirls Shrimp & Fresh Pea Noodles Veggie Lime & Cashew Stir-Fry Beef 'Noodle' Soup Skinny Sausage & Spinach 'Spaghetti' Fresh Lime Zucchini Ribbons Garlic Chicken & Cucumber Ribbons Honey & Thyme Egg Plant Onion & Balsamic Dressed 'Pasta' Spiralized Bubble & Squeak Sundried Tomato & Basil 'Pasta' Creamy Squash Sauce 'Spaghetti' Chicken Miso Soup Wok Egg Soup Sweet Chilli Prawn 'Noodles' Spiced Spinach & Spiralized Sweet Potatoes Beef Keema Fresh Tuna Stir-Fry Bean & Halloumi Ribbon Salad Sweet Potato & Porcini Spirals Skinny Sausage & Spinach 'Spaghetti' Pesto Chicken 'Pasta' Honey Chicken & Crunchy Carrot Stir-Fry Baked Sweet Potato 'Macaroni' Cheese Beetroot & Yogurt SoupPlus many more...... Get ready to be inspired with your spiralizer!

Some of the links on this site include affiliate links, providing Find-a-Seafood-Recipe a small percentage of the sale at no additional cost to you. 

Subscribe to Seafood Recipe News - complete the form below.
Your email address is secure and will *only* be used to send Seafood Recipe News. When you confirm your subscription, you will be taken to a page where you can access your free eCourse. Complete the form and it will arrive over the following five days.