Simple Fish Recipes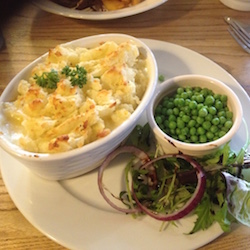 If you're looking for simple fish recipes, here's one from my friend, Rita Patterson who lives in Yorkshire.
Rita's recipe is for smoked haddock, but I think it's also a good way of using up any bits and pieces of fish you have in your freezer - a mixture of smoked and plain fish would work just as well.
---
Fish Pie

2 fillets of Smoked Haddock - or a mixture of fish
2 1/2 Cups, 1 pint (450ml) milk
knob of butter
pepper - to taste
2 hardboiled eggs
Parsley - fresh preferably
Cornstarch (cornflour) - to thicken milk around 1 tablespoon
Mashed potatoes


Cook haddock in milk with the knob of butter and pepper to taste.

Strain fish, reserving the milk and remove the bones and skin.

Flake the fish and put it in an oven proof dish.

Cut the hard boiled eggs into quarters and place on top of the fish.

Mix the cornflour to a paste with a little milk and then stir into the reserved cooking milk - remove the pan from the heat before adding the cornflour, or it will go lumpy.

Add the parsley and stir over a low heat until the sauce thickens.

Pour the sauce over the fish and then top with the mashed potato

Run a fork over the potato - maybe add a bit of parsley butter if you like and then put the dish under the grill to brown.
BEAUTIFUL

You could make this pie in advance and heat it in the oven prior to serving - about 30 minutes in a fairly hot oven to brown and heat through.
I would serve this with some peas.
You may also like these recipes
Find A Seafood Recipe

>
Seafood Recipe Index
> Simple Fish Recipes
Simple Fish Recipe
By Liz Alderson, Mar 28, 2017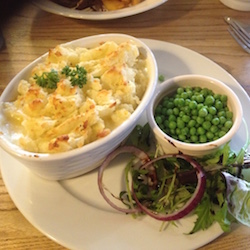 This comforting fish pie is a very simple fish recipe. You can make it in advance and bake it in the oven for 30 minutes or so to heat through.
Prep Time: 15 minutes

Cook time: 30 minutes

Yield: 4

Main Ingredient: white or smoked fish or a mixture, potatoes, milk, eggs
---
Some of the links on this site include affiliate links, providing Find-a-Seafood-Recipe a small percentage of the sale at no additional cost to you. You are not obliged to use these links to make a purchase, but if you do, it helps to support this site and keep the content free.

---
---