Seafood Bisque Recipe

As an Amazon Associate I earn from qualifying purchases.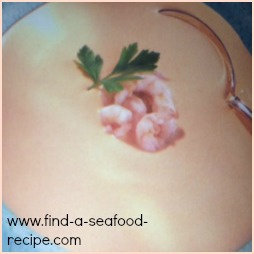 There are two seafood bisque recipes here for you.
Bisque is a thick creamy soup originating from France.
Many areas have their own type of bisque and you can make them out of most shellfish.
The second recipe here is a frugal bisque which you can make out of the shells alone - so you can eat your lobster, then use the shells.
It is a luxurious soup and well suited for a dinner party.
---
Lobster Bisque Recipe
1 large lobster, cooked
1 onion, peeled and chopped
1 carrot, peeled and chopped
2 sticks celery, de-stringed and chopped
2 tbspns oil
2 tbspns brandy
2 pints (1.25 litres) fish stock (see below)
1/4 pint (15ml) white wine
2 oz (50g) white long grain rice
1 small tin (200g) plum tomatoes, chopped
Pepper to taste

Take the meat out of the lobster and set aside.
Take the lobster shell and bash it with a rolling pin (it's best to put it inside a cloth before you do this, to prevent the bits of shell flying all over the kitchen)
Soften the onion, carrot and celery in a pan. Add the broken shell and water to make your fish stock. Bring to the boil and simmer for about 30 minutes.
Strain the stock carefully.
Use about a quarter of it to boil your rice until it is soft.
Put the rest of the stock into another pan.
Pour the brandy into a ladle and hold over heat until it flames, add this to your 'main' stock.
Add the wine and leave it to simmer for about 20 minutes.
Take your cooked rice, stock and tomatoes and blend them to a fine consistency - either use a food processor, blender or push through a sieve.
Add this to the soup.
Chop the lobster meat and add to the bisque.
Reheat and add black pepper to taste.
Frugal Seafood Bisque
This seafood bisque recipe uses the shell from a lobster that you have already enjoyed - (or you could substitute crab or prawn shells) plus a little reserved meat.
The lobster/crab/prawn taste comes from the shell.
You make the bisque in exactly the same way as the previous recipe, but you just use the shell to make the stock and add either some reserved lobster, a little bit of crab or a few prawns to make your seafood bisque.
A couple of tablespoons of thick cream swirled in at the end of cooking will make it quite luxurious.
You may also like these recipes
Some of the links on this site include affiliate links, providing Find-a-Seafood-Recipe a small percentage of the sale at no additional cost to you. 

Subscribe to Seafood Recipe News - complete the form below.
Your email address is secure and will *only* be used to send Seafood Recipe News. When you confirm your subscription, you will be taken to a page where you can access your free eCourse. Complete the form and it will arrive over the following five days.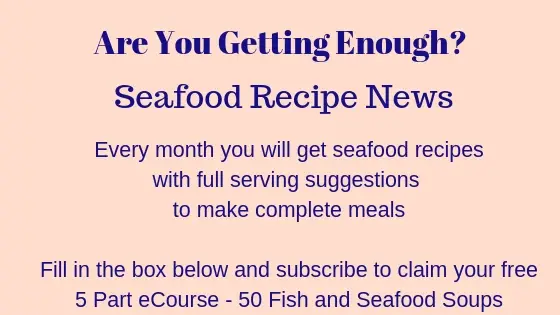 Seafood Bisque Recipe
By Liz Alderson, Mar 26, 2017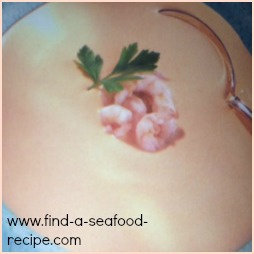 Two bisque recipes, one 'frugal' using the shells left from seafood and the other a super duper full on lobster bisque.
Prep Time: 30 minutes

Cook time: 30 minutes

Yield: 4

Main Ingredient: lobster or shells