Recipes for Fried Fish
Japanese Tempura
As an Amazon Associate I earn from qualifying purchases.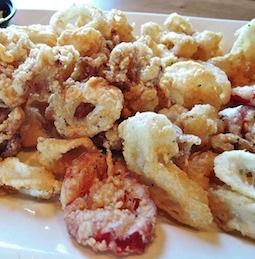 Here in my recipes for fried fish we now go to Japanese Tempura.
Use the tempura batter to coat thin strips of fish and vegetables (make them bite sized) and then fry them in batches.
The quantity in this recipe is designed for four people - to be honest, it's so tasty, I could eat all of it on my own!  It would probably be my only meal of the day though! 
If you have a fondue set, you could use it for this dish - see recipe here 
---
Tempura
12 large shrimp peeled but tails left on
2 courgettes - sliced into 2" (50cm) sticks
12 button mushrooms
1 onion - cut into rings
12 mangetout

Dipping Sauce
3 tbspns Japanese soy sauce
3 tbspns sweet rice wine or dry sherry
1" (25cm) piece fresh ginger, finely grated

Garnish
peeled and finely grated carrot
Shredded spring onions (scallions)
finely grated ginger

Tempura Batter
2 oz (50g) plain flour
2 oz (50g) cornflour
1 tspn baking powder
1/2 tspn salt
1 beaten egg
7 fl oz (200ml)iced water
1 ice cube

Sift the flour, cornflour, baking powder and salt into a bowl.
Beat the egg and water together and add to the bowl, whisk together and put in the ice cube to keep it cold..
This does not need the long beating of other batters, merely mixing until smooth.
Within these recipes for fried fish, this is the only fish batter recipe that you mustn't let stand before using - make the batter just before you are ready to cook.
Heat your oil to 180C/350F - if there's a smoke haze, then drop a bread cube in - if it rises and browns immediately, then your oil is ready. 
Dip the prawns and vegetables into the batter and then put them carefully into the oil.
The prawns will need about 2 minutes and the vegetables 1 minute.
Place them onto a warmed serving plate, garnish, provide each person with a little bowl of dipping sauce and let them tuck in.
More recipes for fried fish
Some of the links on this site include affiliate links, providing Find-a-Seafood-Recipe a small percentage of the sale at no additional cost to you. 

Subscribe to Seafood Recipe News - complete the form below.
Your email address is secure and will *only* be used to send Seafood Recipe News. When you confirm your subscription, you will be taken to a page where you can access your free eCourse. Complete the form and it will arrive over the following five days.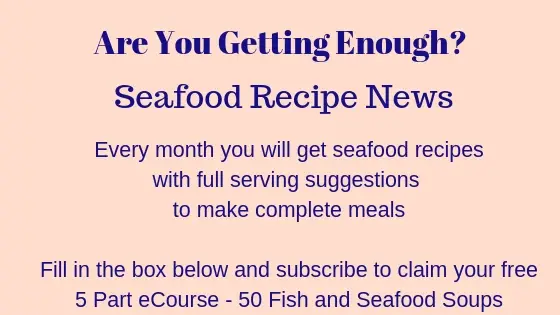 Recipe for Fried Fish - Tempura
By Liz Alderson, Mar 24, 2017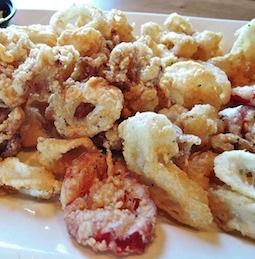 A great recipe for fried fish, Tempura batter coating fish pieces and fried in hot oil - perfect if you have a fondue set.
Prep Time: 15 minutes

Cook time: 5 minutes

Yield: 4

Main Ingredient: shrimp, zucchini, mushroom, flour, egg, milk