Fish Recipes
Salmon Couscous
As an Amazon Associate I earn from qualifying purchases.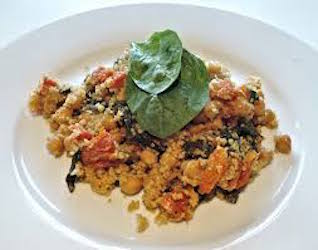 One of my favorite fish recipes.
It ticks all the right boxes - cooked in one pan (less washing up) tasty, spicy, nutritious and very easy to put together.
Harissa paste is a spicy sauce used in many dishes - you can buy it or make it.
There are many different recipes for harissa and you will be able to find one by using the search box at the bottom of this page.
It keeps quite a while once opened but you need to cover it with oil so that it doesn't dry out - then just stir it in.
Start with a small amount to see if your family like it - and then experiment with different recipes until you find the one you like.
Anyway - to the easiest of fish recipes
---
Salmon with Couscous

1 tablespoon olive oil
1 green pepper - deseeded and chopped
8oz (225g) salmon fillet cut into chunks
1 tablespoon harissa paste
4 oz (100g) dried apricots - cut each into four pieces
8oz (225g) can chickpeas - rinse thoroughly and drain
9oz (225g) couscous
9 fl oz (225ml) fish stock or water
2 oz (50g) butter - softened
chopped coriander to serve - or whole basil leaves

Heat the oil in a large frying pan - a wok is ideal - you will need a lid to fit or foil to cover.
Fry the onion and pepper for 2 minutes or so until soft.
Add the salmon and fry for about 5 minutes until the salmon is opaque.
Stir through the harissa paste - if you like spicy food, then add more than 1 tablespoon, but taste before you decide.
Add the apricots, chickpeas, couscous and then pour over the stock.
Stir well to combine all the ingredients and then turn off the heat.
Cover the pan with a lid or crimped down tinfoil and leave for about 5 minutes until the stock has been absorbed.
You now need to stir with a fork to fluff up the couscous - add a good knob of butter at this stage.
Scatter the coriander over prior to serving.
You can serve with more harissa paste if you like your food spicy.
Any leftovers are great served cold.
More Fish Recipes
Some of the links on this site include affiliate links, providing Find-a-Seafood-Recipe a small percentage of the sale at no additional cost to you. 

Subscribe to Seafood Recipe News - complete the form below.
Your email address is secure and will *only* be used to send Seafood Recipe News. When you confirm your subscription, you will be taken to a page where you can access your free eCourse. Complete the form and it will arrive over the following five days.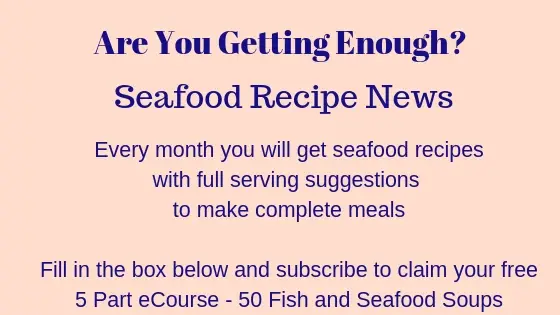 Salmon Couscous
By Liz Alderson, Mar 30, 2016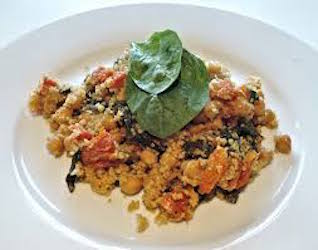 This Salmon Couscous recipe ticks all the right boxes - cooked in one pan (less washing up) tasty, spicy, nutritious and very easy to put together.
Prep Time: 5 minutes

Cook time: 12 minutes

Yield: 2

Main Ingredient: salmon fillet, harissa paste