Fish in Foil
As an Amazon Associate I earn from qualifying purchases.

Cooking fish in foil produces a really succulent meal. It also cuts down on washing up and smells - what's not to like? 
You can add some vegetables to the fish parcel to make a complete meal. The sauce is created from the fish juices plus the ingredients you add. All the goodness is kept inside and when you open the packet - that can be paper or aluminium, you release delicious aromas which will get the digestive juices flowing. 
Here's a selection of easy to follow fish in foil recipes - they're suitable for oven or grill/barbecue cooking and you can substitute any fish you have for the one in the recipe. So if you have salmon, but you like the cod recipe, then go with it - it'll work fine. 
---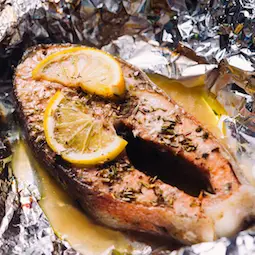 Barbecue salmon recipe in foil with luscious marinade recipe for salmon. 
As I say over and over, you can use any fish you like in these recipes and the cooking method would be good for the oven or a grill. 
These fish in foil will cook in around 20 minutes on the barbecue or if you need to bake in the oven, set it to 400f, 200C or Gas Mark 6. Cook steaks in foil for around 25 minutes,  and fillets for 15 to 20 minutes. Check for 'doneness' by poking it with your finger. If it's firm to the touch and looks ready to flake, then it's ready to eat.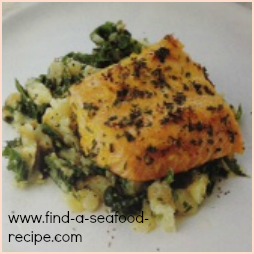 This baked cod in foil recipe is ideal for a week night or a dinner party.
It's super quick to prepare. You could prep the parcels early in the day and leave them in the refrigerator ready to put in the hot oven.
Allow people to open their own parcel on the plate, that way they'll get the full hit of the beautiful aroma. Have a spare dish to put the used foil in. 
Halibut Fish in Foil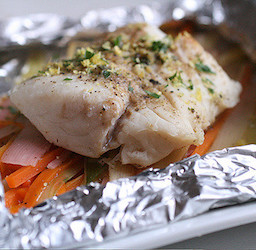 Halibut is one of my favourite fish - it's meaty, firm and free from little bones. It's a huge fish and you mainly get steaks from it.  It has a large skeleton and so the bones get easily left behind, which means nobody will be complaining about finding a bone! 
It's not cheap - think fillet steak as opposed to braising steak... but a little will go a long way.
You'll sometimes see it on offer - if you do, grab it! 
This recipe has some vegetables already in the parcel - do be sure to finely shred the leek and carrot so that it cooks at the same time as the halibut. Fish doesn't need long cooking times and you want your veggies to cook at the same rate, you can ensure that by cutting them really fine. A grater would be good for the carrots or a julienne cutter if you have one.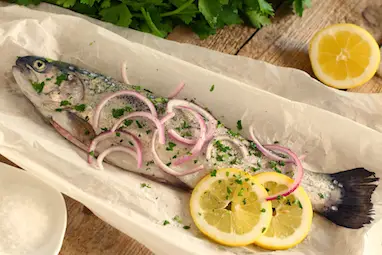 Whole trout in paper - you can use foil instead, it makes little difference to the finished result. 
Each fish weighs around 12 ounces - if your's are larger, then adjust the cooking time. Substitute small whole bream, sea bass, snapper - it cooks in a delicate blend of herbs, lemon and olive oil, with a hint of garlic. The smell when you open the parcels, is divine!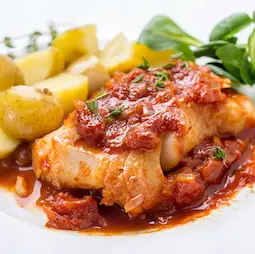 As a little bonus and to get your creative juices flowing - have a look at this recipe. It's a really tasty baked cod in sauce and the instructions are to cook in a covered dish. 
Now, how about if you were to make four parcels and divide the ingredients equally  between those parcels and cook it in the oven for about 20 to 25 minutes? What do you think? I think it would work beautifully. 
Cook's Notes

A huge benefit of cooking fish in foil (aluminium) is that it retains the heat for a while. 

Fish can go cold very quickly once it's plated up and so by serving your fish in aluminium parcels, you can keep it hot whilst you get the rest of the meal together. 


You only open the parcel once you're ready to tuck in! 
Some of the links on this site include affiliate links, providing Find-a-Seafood-Recipe a small percentage of the sale at no additional cost to you. 

Subscribe to Seafood Recipe News - complete the form below.
Your email address is secure and will *only* be used to send Seafood Recipe News. When you confirm your subscription, you will be taken to a page where you can access your free eCourse. Complete the form and it will arrive over the following five days.