Fish Batter Recipe

As an Amazon Associate I earn from qualifying purchases.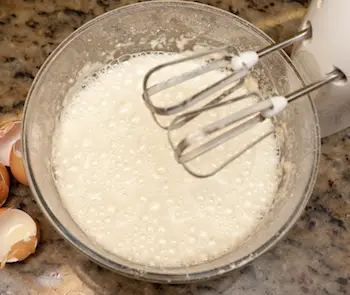 Simple, straightforward steps to make the perfect fish batter recipe.
You can use a hand whisk, electric beater, blender or food processor. Links to different methods, including beer batter are at the bottom of this recipe. 
---
Ingredients:

4 oz/ 1 cup (100g) plain flour

1 egg

 1 Cup, 1/2 pint (200ml) milk

salt and pepper






Sift your flour into a large bowl.

You will need plenty of room to whisk, so I use a fairly large mixing bowl.

Add a pinch of salt and some pepper.


I use fine sea salt as you don't need as much to get the flavor from it. You can almost count the grains in a 'pinch'. 



Break the egg into the bowl.

TIP You might like to break it into a cup first to test the freshness - if you break it and it's 'off' then it will waste the flour as you'll have to start again.

| | |
| --- | --- |
| Pour in your milk. | |
Whisk with a balloon whisk until the batter is light and airy - you will see that it develops bubbles as you beat.

Leave to rest for 30 minutes before using and then give the  batter another whisking to incorporate more air.




I love traditional battered fish - the batter needs to be light and crispy, then the salt and vinegar need to be 'just right'.
My grandad did it best. He would sprinkle salt lightly, then add vinegar, then another sprinkle of salt. Somehow the two would melt together and coat the fish.
You can turn this into pancake batter by adding some more milk - so if you've any left over, just add some milk and make pancakes.
It will keep in the fridge for a couple of days if you cover it with film or put in a jar. You'll need to give it another beating before you use it to make sure everything is mixed up again.
Check out the links below for more recipes including beer batter and blender batter.
You may also like these recipes
Some of the links on this site include affiliate links, providing Find-a-Seafood-Recipe a small percentage of the sale at no additional cost to you. 

Subscribe to Seafood Recipe News - complete the form below.
Your email address is secure and will *only* be used to send Seafood Recipe News. When you confirm your subscription, you will be taken to a page where you can access your free eCourse. Complete the form and it will arrive over the following five days.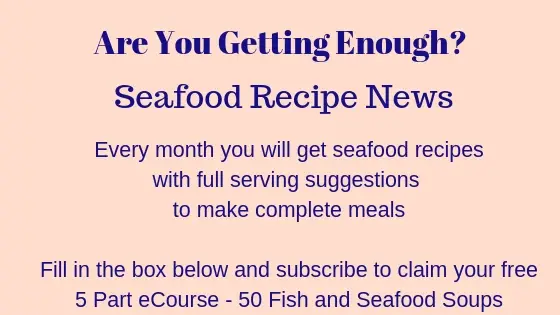 Fish Batter Recipe
By Liz Alderson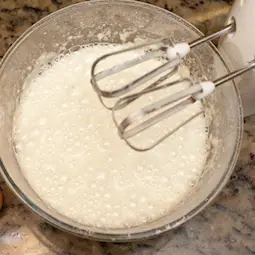 Fish and chips relies on having a great fish batter recipe. You'll find the perfect one here, whether it's plain, beer, all-in-one or hand mixed.
Prep Time: 10 minutes

Cook time: 15 minutes

Yield: 2 whole fish

Main Ingredient: flour, eggs, milk