Easy Recipes for Perch Fish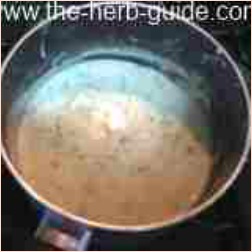 Carrolle asked me if I could find some easy recipes for perch fish - her husband goes fishing and sometimes brings it home.
So - I suggested the easiest thing to do was to clean it and barbecue it. That would be good in the fine weather, but sometimes it rains...
Here's a simple way of cooking perch with a very easy parsley sauce. This method uses arrowroot or cornflour - just remember to take the pan off the heat before stirring in the thickening otherwise the sauce will go lumpy.
The parsley needs just a few seconds as the milk is coming to the boil - just enough to 'wilt' it.
---
Perch with Parsley Sauce
Whole perch
olive oil for frying
1 pint (300ml) milk
cornflour/arrowroot to thicken
handful fresh chopped parsley
salt and pepper to taste

Clean and gut the fish - then dip into boiling water for 1 minutes - this will make it easy to scrape the scales away.
Scrape away the scales.
Heat the oil in a frying pan and lower the fish into it.
Fry each side about 5 minutes, depending on the size of the fish - when they're 'flaky' they're done.
Meanwhile, heat the milk in a pan and make up the cornflour/arrowroot as per the instructions.
I mix cornflour with a little of the measured milk.
Add the parsley just prior to the milk coming to the boil.
Remove the milk from the heat and stir in the cornflour (if you don't it goes immediately lumpy)
Return the mixture to the heat and stir until thickened - taste and adjust seasoning.
Serve the perch with potatoes and vegetables with the sauce poured over.
There's a parsley sauce recipe here.
You may also like these recipes
Some of the links on this site include affiliate links, providing Find-a-Seafood-Recipe a small percentage of the sale at no additional cost to you. 

Subscribe to Seafood Recipe News - complete the form below.
Your email address is secure and will *only* be used to send Seafood Recipe News. When you confirm your subscription, you will be taken to a page where you can access your free eCourse. Complete the form and it will arrive over the following five days.
Find A Seafood Recipe

>
Freshwater Fish Recipes
> Easy Perch Recipe
Perch With Parsley Sauce
By Liz Alderson, Mar 30, 2016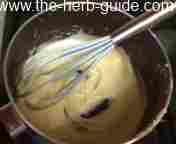 Perch is a 'fishermans' fish really, not something you'd normally buy in the shops. So, if you're lucky enough to have a 'fisher person' in your circle, then you only need simple cooking and this tasty parsley sauce will be perfect to pour over your vegetables.
Prep Time: 5 minutes

Cook time: 7 minutes

Yield: 4

Main Ingredient: perch, parsley, milk