Breaded Fried Fish Recipe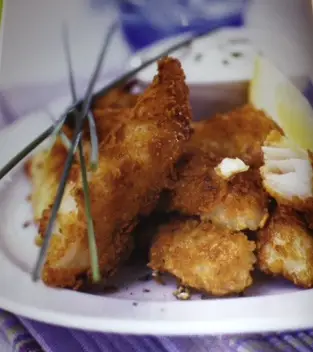 This breaded fried fish recipe is mildly spicy. It would be good served as a starter with some chopped salad leaves, cucumber, tomato and onion, with lemon wedges and a minty yoghurt dressing.
If you don't like spicy food, then it's okay to just leave out the spices - add herbs if you like and use the salt and pepper to just add a little flavour to the breadcrumbs, which can be a little bland without. 
The instructions are for plaice fillets, but most white fish would be suitable.
It can be called 'goujons' if you want to be posh! If not, fish fingers. The strips would be great for filling tacos or you could give them to the kids with some mayonnaise or tartare sauce for dipping.
---
Breaded Plaice
4 medium plaice fillets - skin and bone removed
1/2 tspn salt
fresh black pepper
1 1/2 tspns cumin seeds
1/2 tspn ground turmeric
1/2 tspn cayenne pepper
2 tbspns finely chopped coriander or parsley
2 eggs - beaten with 4 tbspns water
6 oz fresh white breadcrumbs - whizz slices of bread in a food processor
oil for frying

Cut the fish into 3/4 inch (2 cm) strips and put them on a plate.
Mix the salt, pepper, cumin, turmeric, cayenne and corainder together.
Rub the spice mixture into the fish and leave for 15 minutes - turn the fish, rub the spices in again and leave a further 15 minutes.
Put the eggs into a dish and the breadcrumbs onto a plate.
Dip the fish strips into the egg and then into the breadcrumbs, making sure they're evenly coated.
Heat about 1 cm (1/2 inch) of oil in a frying pan and put in some of the fish - not too crowded or they won't cook evenly.
Fry for about 2 minutes each side until golden brown.
Drain and keep warm while you fry the rest of the fish in batches if necessary.
Serve immediately.
This really is delicious.
You may also like these recipes
Some of the links on this site include affiliate links, providing Find-a-Seafood-Recipe a small percentage of the sale at no additional cost to you. 

Subscribe to Seafood Recipe News - complete the form below.
Your email address is secure and will *only* be used to send Seafood Recipe News. When you confirm your subscription, you will be taken to a page where you can access your free eCourse. Complete the form and it will arrive over the following five days.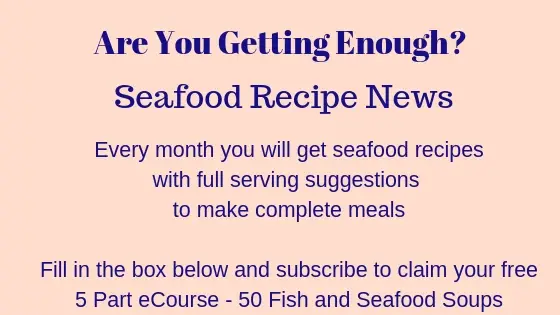 Breaded Fried Fish Recipe
By Liz Alderson, Mar 30, 2016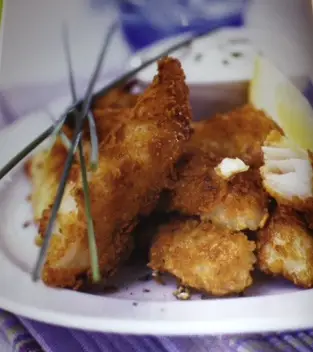 Gorgeous recipe for breaded fried fish - these are great as gluons an which you could put inside a taco, much like Rubio's Fish Tacos - add some salad and coleslaw with fries for a great meal.
Prep Time: 15 minutes

Cook time: 7 minutes

Yield: 4

Main Ingredient: plaice or flat fish fillets, bread