Smoked Fish
Smoked fish is so tasty.
From kippers for breakfast, smoked cod for lunch to smoked salmon for a dinner party starter - people love it.
But, how about smoked haddock with eggs on toast for breakfast?
Smoked mackerel with horseradish for lunch?
Smoked Haddock in milk with bread and butter for tea?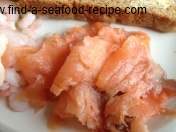 Smoked trout pate for a dinner party?
Simple smoked salmon with bread and butter, lemon wedges and black pepper.

This section will explore and share some of my favourites and hopefully other people will contribute theirs.
Smoked salmon sandwiches with a glass of champagne - lovely.
Smoked mackerel pate on toast.
Smoked haddock, poached egg and mashed potato.
Smoked cod fish cakes.
There are countless ways to serve it.
Enjoy...
Christmas Breakfast Recipes.

To be honest, these are great recipes for any day of the year, but they're a bit special and would be lovely for you to make for occasions - romantic breakfast in bed for instance.


Scrambled egg with smoked salmon, Eggs Royale, Kedgeree, Smoked Mackerel dip and Smoked Salmon dip - all easy to make or prepared in advance to put together quickly.

Smoked Haddock
| | |
| --- | --- |
| The ultimate in comfort food. Smoked haddock soup thickened with mashed potato. | |
| | |
| --- | --- |
| This is the ultimate mix of rice and fish - good for breakfast, brunch or tea. | |



Smoked Haddock Florentine
A low fat version of this dish for those who are weight watchers. If you're not, then serve it over a bed of creamy mashed potato.

Smoked Haddock with Mushroom Sauce
So easy - a great meal for lunch, tea, dinner - whatever you like - recipe here serves one, but you can easily multiply up.


Smoked Mackerel


Fish Cake Recipe
This fishcake recipe is perfect for smoked fish - peppered smoked mackerel particularly - the addition of horseradish cuts through the oiliness of the mackerel making a fantastic taste.
| | |
| --- | --- |
| Easy and economical to make. Simple step by step tutorial with photos makes this tasty pate a breeze to make! | |
Smoked Salmon


Smoked Salmon Appetizer
Smoked salmon with avocado and cucumber salad - great as an appetizer or part of a buffet.


Smoked Salmon Potatoes
A great smoked salmon appetizer or good as part of a buffet. Delicious mustard sauce.
Smoked Salmon, Dill and Potato Tart
This smoked salmon quiche is wonderful. It's suitable for a buffet or a family meal.


Smoked Salmon Dip
Such a simple and tasty party dip - omit the cream to make a smoked salmon pate.


Smoked Salmon Fish Cakes
Using offcuts, these fish cakes are not expensive - great as a fish appetizer course of for tea.


Smoked Salmon pate is not too expensive if you use a pack of trimmings and own brand cream cheese - it makes a great sandwich filler as well as a smoked salmon appetizer.

2 part tutorial with step by step photos.

Find A Seafood Recipe
› Smoked Fish
---
Some of the links on this site include affiliate links, providing Find-a-Seafood-Recipe a small percentage of the sale at no additional cost to you. You are not obliged to use these links to make a purchase, but if you do, it helps to support this site.

---