Salmon with Pasta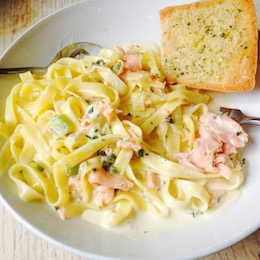 Smoked Salmon with Pasta
This recipe is one of my favourite fish recipes.  What's more, it is simple to make!

If you have any leftover fish from the Sunday roast, or barbeque, this is a great way to use it up.
You really only do need 2 or 3 ounces to make the sauce - but I do love smoked salmon with it and that's my favorite.
---
Smoked Salmon with Pasta
3 ounces - 3 slices chopped smoked salmon
Finely sliced baby leek or onion
2 tablespoons capers
10 oz Fettuccini (or linguini) pasta
Chopped parsley (or any other fresh herb you fancy)
Coarse ground black pepper
Sauce:

1 cup heavy cream
1 cup grated parmesan
METHOD
Cook the pasta in boiling water.
Fry the onion or leek in a small amount of olive oil until they're soft. Mix in the capers. Add the cream and very carefully bring it up to a high temperature - do not allow it to boil. Add the salmon to warm through.
Drain the pasta and return it to the pan - be quick as it needs to stay hot.
Stir the parmesan into the cream mixture, then pour it over the pasta. 
Stir it all in thoroughly and then put onto warmed serving dishes - serve with extra parmesan if you like - there is no such thing as too much cheese ;-) 
VARIATION: Another way I love to prepare this simple, healthy meal is with asparagus, when it is in season. Asparagus goes particularly well with salmon. To cook it, just throw the tips into the pasta saucepan, about five minutes before the pasta is cooked.
You may also like these recipes
pic
Find A Seafood Recipe

>
Seafood Pasta Recipes
> Salmon with Pasta
Salmon with Pasta
By Liz Alderson, Mar 25, 2017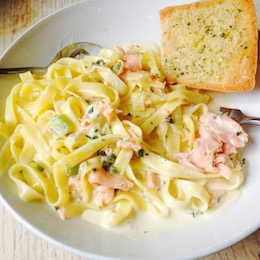 Beautiful, tasty, easy smoked salmon with pasta - creamy, delicious and quick.
Prep Time: 5 minutes

Cook time: 20 minutes

Yield: 4

Main Ingredient: salmon, pasta, leeks, cream, parmesan
---
Some of the links on this site include affiliate links, providing Find-a-Seafood-Recipe a small percentage of the sale at no additional cost to you. You are not obliged to use these links to make a purchase, but if you do, it helps to support this site and keep the content free.

---
---