Salmon Salad Recipes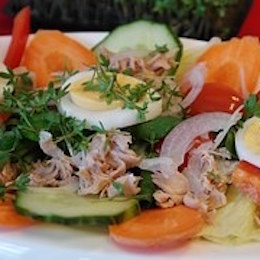 This is one of the easiest salmon salad recipes I have found.
A simple salad with a dressing - serve with some hot new potatoes or crusty french bread to mop up the juices.
It couldn't be easier than this - if you don't want to cook salmon, then you could use a can of salmon instead.
If you do that, then turn the can out onto a plate.
Separate the skin, juice, bone and flesh.
Flake the flesh and discard the bits - or give them to your cat who will love you for all eternity :-)
---
Salmon Salad
8 oz cooked salmon
4 hard boiled eggs
1 shredded lettuce
1/2 cucumber - diced
4 tomatoes - diced
1 small red onion - diced
2 tspns capers
4 tbspns olive oil
4 tbspns white wine vinegar
2 tspns sugar

Put the oil, vinegar and sugar in a small jar with a lid - give it a good shake and leave it to one side.
Put the lettuce in the bottom of a big serving dish.
Add the rest of the salad ingredients and give them a good mix.
Give the dressing another good shake and then pour over the salad.
Flake the salmon over it.
Quarter the eggs and arrange them around the dish.
Chop the capers and scatter them over the salad.
Allow people to help themselves from the salad bowl.
Serve some buttered new potatoes or crusty bread and butter with the salad.
A couple of bottles of wine - some evening sun - what bliss....
You may also like these recipes
pic
Find A Seafood Recipe

›
Recipes Using Canned Fish
› Salmon Salad Recipes
Salmon Salad Recipe
By Liz Alderson, Mar 25, 2017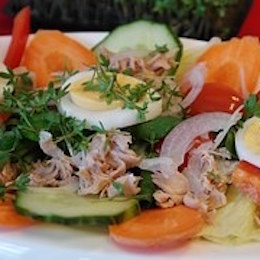 Succulent salmon with a lovely crisp salad is perfect any time.
Prep Time: 15 minutes

Cook time: 0 minutes

Yield: 4

Main Ingredient: salmon, eggs, salad vegetables
---
Some of the links on this site include affiliate links, providing Find-a-Seafood-Recipe a small percentage of the sale at no additional cost to you. You are not obliged to use these links to make a purchase, but if you do, it helps to support this site.

---