Hello :-)
I hope you're well.
I had an email from Fran asking me how to cook salmon in the microwave.
It's so easy and I thought I'd put together one of my photo tutorials to show you how to do it.
Then when I'd done it, I thought I'd better show you how to get rid of fish smells from your microwave as well!
It really does smell and as much as I love fish, I do hate the smell that lingers around the house.
There are a few simple measures you can take - cooking in the microwave in a steaming bag is quite effective and that's the tutorial I've done.
Get rid of any cooking foil or bags straight away - tie them up into poly bags and that should keep them airtight until you can get to the bin.
Rinse the cooking pots out straight away.
The problem with fish is it does go cold quickly and so you don't want to hang around.
So first off - how to cook salmon in the microwave - the instructions are for two and it's best to only cook two fillets at a time - they will stay hot in the bags whilst you cook more.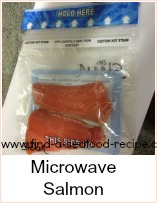 Now how to get rid of the fish smell.

This is an excellent way of steam cleaning your microwave - you literally set it to work for 10 minutes, then wipe it out with a soft cloth.

This method works for even baked on food, leaving your microwave smelling fresh and clean.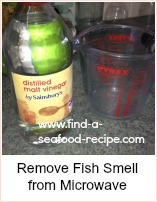 I've updated a monkfish recipe - it's one of my top 10 seafood recipes - I love monkfish.

I went on holiday to Portugal in 1981 and had a similar dish. When I got home, I had to try and recreate it!

Just as a word of caution - don't be tempted to skip the frying off stage of the monkfish chunks - if you don't give it a quick fry to seal the fish, it will disintegrate and end up looking like white crab meat - it will stay tasty, but will not look so good.

I know because I've done it :-)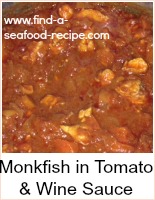 Thank you for your lovely emails - it's so good to hear from you and makes me realise I'm not just writing to myself!

As always, if you have any questions, please reply to this email and ask away or

Email me at Liz at find-a-seafood-recipe.com - replace with @ and no spaces.

Well, I won't bore you - promised to keep the newsletters short and to the point.

Some of you may know that I also write a herb website.

I have uploaded a 2 part eCourse 8 Essential Culinary Herbs.

It is a thank you for subscribers to my Herb Guide Newsletter.

If you want a copy, go here and subscribe - that starts the process that will take you to the page where you can request your copy.

You can unsubscribe from the newsletter afterwards if you want to - but I'd like to think that you won't :-)

To see recently added or updated pages, please visit here at the seafood recipe blog which is an update for the find-a-seafood-recipe website, listing the last pages to be built or updated.

If you have a question about this topic - or any topic - then please go here where you can ask your question and I will answer.

I hope you are all well and I will be in touch again soon.

All the best

Regards

Liz