Hello All :-)
I've been asked for a fish batter recipe and also the best way to cook salmon.
Poaching salmon is a good method, but it's hard for beginners (and sometimes experienced cooks) to get a gentle simmer and the fish can break up and look a mess.
Here's a foolproof (well, nearly) method of cooking salmon and getting it right first time every time.
Click here to go through to the 2 part photo tutorial.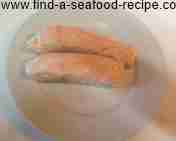 The other question I had was about a Fish Batter Recipe - this one is the one that's most common and there are links for beer or lager batter and tempura batter.
Click here to go through to the photo tutorial.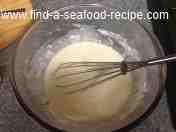 I'm planning to do more of these tutorials - they have proved very popular with visitors to my Herb Website as they show what things should look like at what stage.

My next ones are Parsley sauce and Salmon fish cakes.

If you have any specific things you'd like to see me demonstrate, then I'm planning a Cookery Course - let me know what causes you difficulties or you'd like some help on and I'll do a Tutorial for you.

Well, I won't bore you - promised to keep the newsletters short and to the point.

Some of you may know that I also write a herb website.

I have recently uploaded a 2 part eCourse 8 Essential Culinary Herbs.

It is a thank you for subscribers to my Herb Guide Newsletter.

If you want a copy, go here and subscribe - that starts the process that will take you to the page where you can request your copy.

You can unsubscribe from the newsletter afterwards if you want to - but I'd like to think that you won't :-)

To see recently added or updated pages, please visit here at the seafood recipe blog which is an update for the find-a-seafood-recipe website, listing the last 25 pages to be built or updated.

If you have a question about this topic - or any topic - then please go here where you can ask your question and I will answer.

I hope you are all well and I will be in touch again soon.

All the best

Regards

Liz