Hello All :-)
I hope this email finds you well.
I mentioned last time that I would do a parsley sauce photo tutorial.
This one uses the traditional roux method of thickening, first of all melting the butter, then blending in flour, cooking the roux and then gradually incorporating the milk before adding the parsley.
It looks like a lot of steps, but I have done this deliberately so new cooks can see what it looks like and believe that yes, when you've whisked it, it will blend in smoothly :-)
With practice, you will be able to make any white sauce base (for cauliflower cheese, parsley sauce etc) in around 10 minutes.
Click here to go through to the photo tutorial.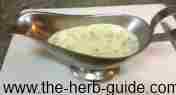 I had an email last week asking me how to make smoked mackerel pate. Trish is planning a family celebration meal next week and wanted a recipe for smoked mackerel pate.

She hadn't decided yet whether she was going to sit everybody down and serve a traditional meal or a buffet - this recipe would be good whichever she decided - as a dip with breadsticks, crudites etc or served with toast as a seafood starter.

So, I added the ingredients to my shopping list this week and whipped it up quickly.

It takes no time at all to make and it can be done in advance - just cover it in the fridge and you could make it the day before a party if you like.

Click here to go through to the photo tutorial.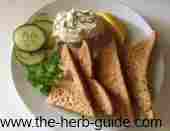 I always prefer a buffet because it lets me socialise instead of spending time getting food ready and doubling up as chef and waitress whilst my friends enjoy themselves.

Thank you for your feedback after the last tutorials I published - you're all very kind. I hope the photos are clear enough - it's difficult to strike a balance between clarity and loading time of a page.

I did say I would put up the salmon fish cakes tutorial - I have made them and done the photos - yes, very tasty thanks for asking! - and they will be loaded within the next few days. Trish's plea for the other recipe took priority this time.

If you have any specific things you'd like to see me demonstrate, then I'm planning a Cookery Course - let me know what causes you difficulties or you'd like some help on and I'll do a Tutorial for you.

In the pipeline at the moment is smoked salmon pate, tartare sauce, shrimp (prawn) cocktail and an avocado and prawn (shrimp) starter - all made and photographed and ready to be put on the website.

Well, I won't bore you - promised to keep the newsletters short and to the point.

Some of you may know that I also write a herb website.

I have recently uploaded a 2 part eCourse 8 Essential Culinary Herbs.

It is a thank you for subscribers to my Herb Guide Newsletter.

If you want a copy, go here and subscribe - that starts the process that will take you to the page where you can request your copy.

You can unsubscribe from the newsletter afterwards if you want to - but I'd like to think that you won't :-)

To see recently added or updated pages, please visit here at the seafood recipe blog which is an update for the find-a-seafood-recipe website, listing the last 25 pages to be built or updated.

If you have a question about this topic - or any topic - then please go here where you can ask your question and I will answer.

I hope you are all well and I will be in touch again soon.

All the best

Regards

Liz