Warm Seafood Salad Recipe
This warm seafood salad recipe is just right for dining al fresco - you could actually barbecue the salmon if you prefer and make it a real outdoor occasion - open a bottle of wine and relax. (8 chill
And just think - you can drink your wine confidently knowing, that this seafood salad has provided you with your recommended portion of oily fish for the week and at least two vegetable servings - very self righteous!
---
Warm Seafood Salad Recipe
4 fillets or steaks of salmon
olive oil for brushing
salt and pepper
mixed salad leaves - torn roughly
2 ripe avocado pears - sliced
4 tomatoes - chopped
1/2 cucumber - chopped
bunch spring onions (scallions) cut into pieces - not too small
few sticks of celery - chopped
1 tbspn capers (optional)
6 oz (150g) carrot - peeled and grated
5 fl oz (150ml) plain yoghurt
small amount of cream or milk
chopped fresh mint or 2 tspns dried

Mix the yoghurt and cream/milk to thin the yoghurt to a pouring consisitency and then stir in the mint - leave to one side so that the mint flavour will infuse.
Heat your grill, brush the salmon with oil, season with salt and pepper and grill for about 4 minutes each side, depending on the thickness - brush and season as you turn the salmon.
Then assemble your salad - you can either mix it all together in one large bowl and let people help themselves, but I prefer to serve it this way:-
Get four bowls - preferably large ones - and divide the salad ingredients between them - then mix it all together. When it comes to the celery, use the heart, don't mess about with de-stringing the outer bits, save those for stews!
Then pour some dressing over each salad, top with the cooked salmon, capers and grated carrot.
Serve with fresh crusty bread or boiled potatoes - delicious.
You may also like these recipes
pic
Find A Seafood Recipe

>
Grills and Barbecues
> Warm Seafood Salad Recipe
Warm Seafood Salad Recipe
By Liz Alderson, Mar 31, 2016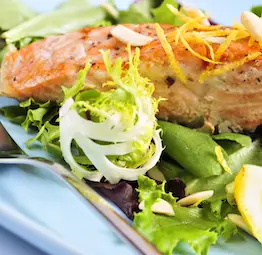 A really gorgeous warm salmon with cold salad and a minty dressing- perfect for a dinner party, al fresco meal or a family meal.
Prep Time: 10 minutes

Cook time: 10 minutes

Yield: 4

Main Ingredient: salmon steaks, salad vegetables, yoghurt, mint

Warm Seafood Salad Recipe - to Find a Seafood Recipe Home
---
Some of the links on this site include affiliate links, providing Find-a-Seafood-Recipe a small percentage of the sale at no additional cost to you. You are not obliged to use these links to make a purchase, but if you do, it helps to support this site.

---