Shrimp Rice Recipe
My Favourite Tomato Rice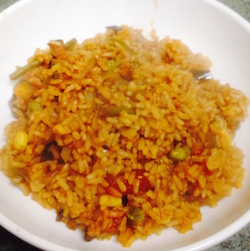 This is a delightfully easy shrimp rice recipe. I serve this tomato rice with lots of different things - it's great with chicken, stir in a couple of cans of tuna, pilchards, mackerel, sardines, crab, shrimp or mix them - whatever you like.
It's even good plain as a side - just add a dash of cayenne pepper or paprika to taste.

You can even cook this recipe on the stove top. Bring the rice to the boil - simmer for about 10 minutes and then cover it. Leave it for a further 20 minutes or so and then stir in your seafood - it will still be hot.
I use a mug to measure rice and fluid for this recipe - it's the most straightforward way.
---
Shrimp Rice
2 tbspns oil
1 large onion, peeled and chopped
1 1/2 mugs white rice
1 can 14 oz (400g) peeled and chopped tomatoes
1 tbspn tomato puree
2 mugs fish stock or water and fish stock cube
2 tbspns worcestershire sauce
8 oz (250g) frozen mixed vegetables
8 oz (250g) defrosted cooked and peeled shrimp

Pre-heat the oven to Gas Mark 5, 375F, 190C
Heat the oil in an ovenproof dish and fry the onion until softened. Add the rice and stir quickly to coat.
Add the tomatoes, puree, stock and worcester sauce and bring to the boil.
Bake in the oven for 30 minutes.
Add the mixed vegetables and return to the oven for 25 minutes - until the rice is cooked.
Stir in the shrimp - this will be enough to heat through and serve.
Delicious and easy and it looks after itself - one pot to wash up as well :-)
You may also like these recipes
pic
Find A Seafood Recipe

>
Seafood and Rice
> Shrimp Rice Recipe
Shrimp Rice Recipe
By Liz Alderson, Mar 27, 2017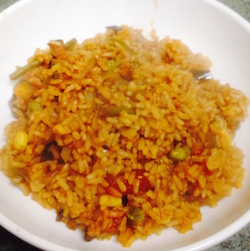 This shrimp rice recipe is made from a Mexican style baked rice dish - tasty and quick to make, it cooks itself in the oven and it's just one pot.
Prep Time: 15 minutes

Cook time: 55 minutes

Yield: 4

Main Ingredient: rice, canned tomatoes, onion, shrimp
---
Some of the links on this site include affiliate links, providing Find-a-Seafood-Recipe a small percentage of the sale at no additional cost to you. You are not obliged to use these links to make a purchase, but if you do, it helps to support this site.

---