Shrimp Cocktail Sauce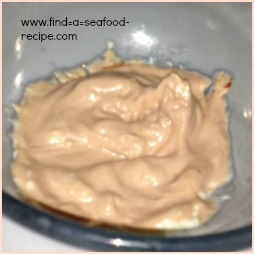 This shrimp cocktail sauce is so easy to make.
You only need 2 basic ingredients and you will be able to use this seafood sauce on your shrimp cocktail or as a dip.
You can season it after you taste - a squeeze of lemon, some black pepper - don't use salt until you serve the finished dish.

---
So here's the 2 basic sauce ingredients.

Mayonnaise and tomato puree.

You can of course make your own mayonnaise if you prefer.

For enough sauce for 4 people put 4 tablespoons of mayo and about 1 of puree into a mixing bowl.

You can always add a little more if you need to as this shrimp sauce is so quick to make.

Mix the two together - you can tell when it's done as the sauce goes a pretty pink colour.

The photo here on the right shows you what it should look like.



After you you've tasted it, you might want to squeeze a few drops of lemon juice.

What I normally do is cut the lemon up so people can add it to their own shrimp cocktail.

I normally put a shake of paprika on the top of the sauce to give a bit of color and flavour. 



If you want to make your own mayonnaise, here's a very short video showing you how easy it is.
You will need three egg yolks to 300ml (1 1/4 cup) groundnut oil - you can use other oils, but they will add their own flavour to the mayonnaise, which you may not want.  
Personally, I use olive oil as I don't want to have lots of different bottles open in my cupboard. Also, I use two whole eggs rather than tree egg yolks.
You may also like these recipes
pic
Find A Seafood Recipe

>
Fish Sauce Recipes
> Shrimp Cocktail Sauce
---
Some of the links on this site include affiliate links, providing Find-a-Seafood-Recipe a small percentage of the sale at no additional cost to you. You are not obliged to use these links to make a purchase, but if you do, it helps to support this site.

---